Pipeline steel
Attention:     Issuing time:2019-12-10 14:47
Pipeline steel

What is "pipeline steel"?
Pipeline steel is a kind of steel used to manufacture oil and gas pipeline transportation system. As a long-distance transportation tool of oil and natural gas, pipeline system has the advantages of economy, safety and uninterrupted.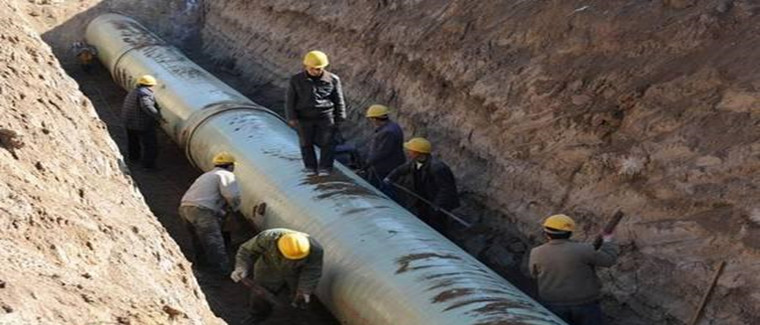 Pipeline steel application
The product form of pipeline steel includes seamless steel pipe and welded steel pipe, which can be divided into three categories: high cold, high sulfur area and submarine laying. These pipelines with bad working environment have long lines and are not easy to maintain, so they have strict quality requirements.

Many challenges faced by pipeline steel include: most of the oil and gas fields are in polar, ice, desert and marine areas, and the natural conditions are relatively poor; or in order to improve the transportation efficiency, the diameter of the pipeline is constantly expanded, the transmission pressure is constantly increased; the flow of oil in the pipeline is corroded, etc.



Properties of pipeline steel
According to the development trend, laying conditions, main failure forms and failure reasons of oil and gas pipelines, pipeline steel should have good mechanical properties (thick wall, high strength, high toughness, wear resistance), large diameter, weldability, cold and low temperature resistance, corrosion resistance (CO2), seawater resistance, HIC, SSCC performance, etc.

①
High strength
Pipeline steel requires not only high tensile strength and yield strength, but also yield strength ratio in the range of 0.85 ~ 0.93.

② high impact toughness
High impact toughness can meet the requirements of crack prevention.

③ low ductile brittle transition temperature
The pipeline steel is required to have sufficiently low ductile brittle transition temperature under severe regional and climatic conditions. The shear area of DWTT (drop weight tear test) has become the main control index to prevent pipeline brittle failure. The general specification requires that the fracture shear area of the sample at the minimum operating temperature shall be ≥ 85%.

④ excellent HIC and SSCC resistance

⑤
Good welding performance
Good weldability of steel is very important to ensure the integrity and welding quality of pipes.




Standard for pipeline steel
At present, the main technical standards of oil and gas transmission steel pipes used in China are API Spec 5L, dnv-os-f101, ISO 3183, and GB / T 9711. The general situation is as follows:

① API 5L (pipeline specification) is a generally adopted specification formulated by American Petroleum Institute. The specification is only for steel pipe products, excluding the design, selection or installation of pipelines.

② dnv-os-f101 (submarine pipeline system) is a specification specially formulated by DET Norske Veritas for submarine pipelines. It involves a wide range of contents, including pipeline design, materials, manufacturing, installation, testing, operation, maintenance and other aspects. The technical requirements for steel pipes are generally stricter than API 5L.

③ ISO 3183 is the standard on delivery conditions of oil and gas transmission steel pipe formulated by international standardization organization, which does not involve pipeline design, installation, etc. The technical terms are relatively comprehensive and detailed.

④ the latest version of GB / T 9711 is 2017. This version is prepared on the basis of ISO 3183:2012 and API Spec 5L 45th edition. Consistent with the two referenced standards, two product specification levels are specified: PSL1 and PSL2. PSL1 provides pipeline steel pipes with standard quality level; PSL2 adds mandatory requirements including chemical composition, notch toughness, strength performance and supplementary NDT.

API Spec 5L and ISO 3183 are the most influential pipeline specifications in the world. In contrast, most of the world's oil companies are accustomed to using API Spec 5L as the basic specification for the procurement of pipeline steel pipes.



Steel pipe grade and steel grade (GB / T 9711-2017, API 5L)

Standard level

Grade of GB / T 9711
Grade of API 5L

PSL1

L175

A25

L175P

A25P

L210

A

L245

B

L290

X42

L320

X46

L360

X52

L390

X56

L415

X60

L450

X65

L485

X70

PSL2

L245R

BR

L290R

X42R

L245N

BN

L290N

X42N

L320N

X46N

L360N

X52N

L390N

X56N

L415N

X60N

L245Q

BQ

L290Q

X42Q

L320Q

X46Q

L360Q

X52Q

L390Q

X56Q

L415Q

X60Q

L450Q

X65Q

L485Q

X70Q

L555Q

X80Q

L625Q

X90Q

L690Q

X100M

L245M

BM

L290M

X42M

L320M

X46M

L360M

X52M

L390M

X56M

L415M

X60M

L450M

X65M

L485M

X70M

L555M

X80M

L625M

X90M

L690M

X100M

L830M

X120M
Note: the number after L indicates the minimum yield strength (in MPA);
The number after X also indicates the minimum yield strength in 1000 psi;
Delivery status: r = rolling, n = normalizing (normalizing + tempering), q = quenching + tempering, M = thermomechanical rolling;
The suffix P indicates the phosphorus containing the specified content.


Ordering needs
The ordering contract of pipeline steel shall include these information:
① quantity (total mass or quantity of steel pipe);
② standard level (PSL1 or PSL2);
③ steel pipe type (seamless pipe or welded pipe, specific welding process, pipe end type);
④ according to standards, such as GB / T 9711-2017;
⑤Steel grade;
⑥ outer diameter and wall thickness;
⑦ length and length type (not fixed length or fixed length);
⑧ the appendix shall be adopted.